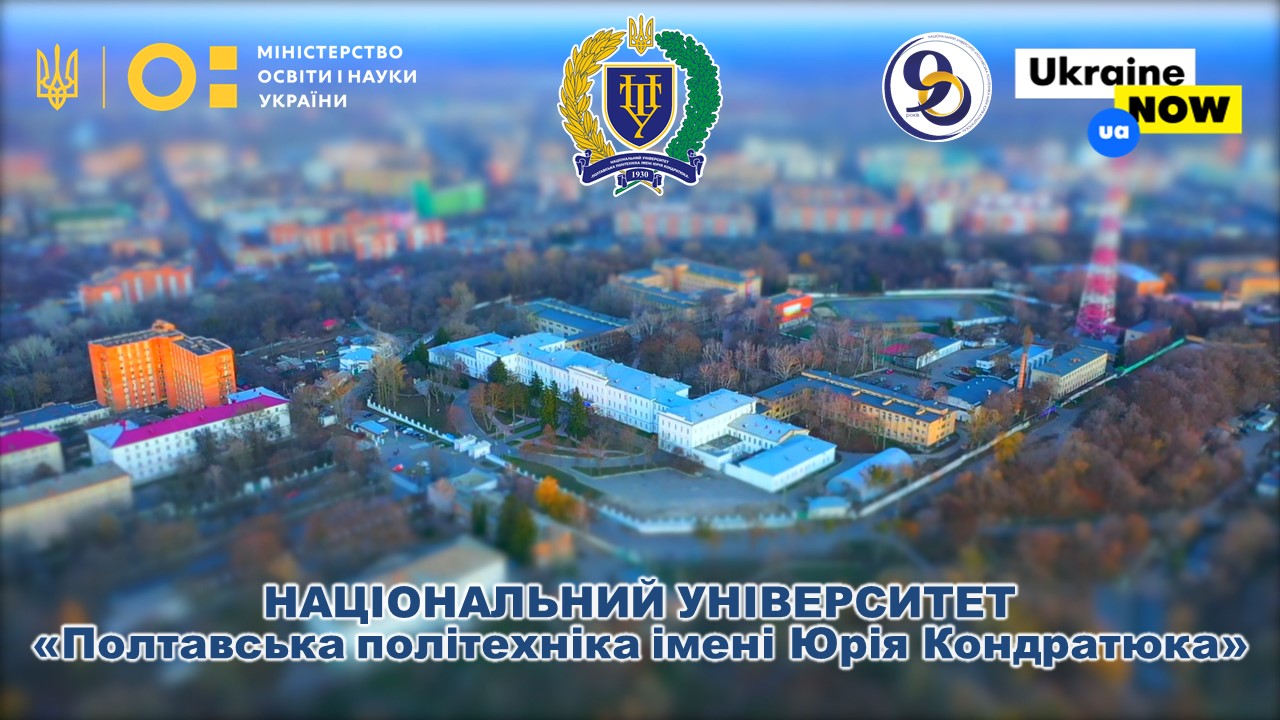 National University «Yuri Kondratyuk Poltava Polytechnic» is one of the oldest and most renowned universities of Poltava region. Local community map would be hardly complete without it, and the university takes its place of pride among the Ukrainian institutions of higher education.
Years of hard work and long record of credentials achieved by our team headed by the rector, Professor Volodymyr Onyshchenko, led us where we are today.
The history of the university that spans so many years consists of chapters written by every student, alumnus and team member as they have contributed to its emergence and development.
Our high standards of education take root in long standing tradition of learning in Poltava region.
This tradition goes back for over 200 years, and National University «Yuri Kondratyuk Poltava Polytechnic» is proud if its glorious antecedents.
The university is now housed in a building which is a historical monument from the early nineteenth century and forms a part of the Poltava architectural ensemble. Formerly, it had been the Institute for Noble Girls.
The opening of the Institute has been initiated by the wife of Prince Mykola Riepnin, the then governor general of Poltava and Chernihiv provinces. Varvara Oleksiivna Riepnina belonged to the illustrious family of Ukrainian nobility – she was the daughter of Oleksii Rozumovskyi, Minister of Education, and granddaughter of Kyrylo Rozumovskyi, the last Hetman of Left-Bank Ukraine, and was a fervent advocate of wider education and cultural enlightenment.
Semen Kochubei, the wealthiest landowner in Poltava, known for his charitable work (and descendant of Vasyl Kochubey, prominent statesman), provided his urban estate to establish a boarding school for the girls from the impoverished noble families. The solemn opening ceremony took place on December 12, 1818.
For about ten years, the Institute had been supported by the contributions from nobility of Poltava and Chernihiv provinces. After Mykola Riepnin petitioned to the government for the Institute to be taken over, on September 17, 1827 it has been transformed into the state-backed college.
The State Decree for the Institute established that as of January 1, 1828 financing from the treasury will be directed for boarding and education of sixty girls. There was also a provision for the Minister of Finance "to assign from the treasury to Poltava Welfare Board a sum of 200 000 roubles in increments of 50 000 roubles annually" to erect a stone building for the Institute. The architectural project developed by Oleksandr Schtaubert and Ludwig Charlemagne, was approved in St-Petersburg in 1828. The main wing of the Institute was finished on September 4, 1832.
Institute was managed by the Board of trustees; the first chairperson was Varvara Riepnina. The trustees were local dignitaries, such as Vasyl Kapnist (poet, playwright and philanthropist) and Mykola Novykov (prominent public figure and charity worker).
At first, only girls from noble families, ages 6 to 18, were accepted; later the rules allowed enrolment of girls from other estates (daughters of merchants and priests). The course of education lasted 7 years.
According to the articles of the institute, Varvara Riepnina established that girls had to receive knowledge on general subjects, arts, ethics, aesthetics, and to be educated on strict morals. Therefore the courses that girls attended included arithmetic, history, geography, languages (French and German), music, singing, arts, dancing, embroidery, as well as domestic skills and household management.
Princess Riepnina invited renowned artists, historians and public figures to teach at the Institute. To name just a few, over the years the following notable figures were among the lecturers: Stepan Steblin-Kaminskyi (the first biographer of poet Ivan Kotliarevskyi), Dmytro Pylchykov (educator and member of Kyrylo-Mefodiivske brotherhood), Hryhorii Markevych (publisher and folklore specialist), Mykhailo Illiashevych (educator and public figure), Mykola Tserteliev (ethnographer and folklore specialist), Pavlo Bodianskiy (historian, ethnographer, journalist and educator), Mykola Verbytskyi (writer, journalist and educator), Ivan Zaretskyi (archaeologist, ethnographer and public figure), Alois Jedliczka (composer, music educator and folklore specialist), painters Ivan Zaitsev and Vasyl Volkov, poet and ethnographer Levko Borovykovskyi. Professor Petro Hulak-Artemovskyi, rector of Kharkiv University, famous poet and translator, was overseeing the educational processes at the institute for over 36 years.
Poet Ivan Kotliarevskyi was a visitor to the Institute too; at Princess Riepnina's request, in 1823-1838 he translated from French "L'evangile medite et distribue pour tous les jours de l'annee, suivant la concorde des quatre evangelists", the notable work of French theologian Bonaventure Giraudeau.
In June-July 1845, the national poet and painter Taras Shevchenko paid a visit to Sophia Zass, the Headmistress of the Institute, who was a subscriber to his album of engravings "Picturesque Ukraine", to discuss its distribution.
Over the years, many other renowned historical figures visited the Insititute, like them writers Mykola Gogol and Vasyl Zhukovskyi, and brothers Serhii and Matvii Muraviov-Apostol, members of the secret Decembrist Society.
There were many distinguished women among Institute's alumna: Varvara Riepnina, daughter of the founder and by Taras Shevhenko's admission, his "guardian angel", to whom he dedicated his poem «Mourners' Feast»); Sophia, Natalia, Maria, Tetyana, Anna and Olena Bykova, descendants both of Mykola Gogol and Aleksandr Pushkin; miniature painter Yulia Volkova, daughter of Vasyl Volkov.
In 1854-1865, five daughters of Professor Petro Hulak-Artemovskyi – Apollinaria, Yefrosynia, Maria, Natalia and Kleopatra – were among the boarders. Artemovskyi dedicated a number of his poems to graduates of the Institute for Noble Girls.
Liubov Shcherbachova graduated from the Institute in 1878 with distinction. She soon became known as Liubov Yanovska, Ukrainian author and political campaigner. Writers Ivan Franko and Mykhailo Kotsiubynskyi highly praised her works and her civic stance.
Among later graduates were also world famous singer and actress Oleksandra Santagano, sculptor Yelizaveta Trypilska, wards of Princess Riepnina - sisters Hlafira and Oleksandra Psiol, painter and poet.
Oleksandra Sheideman came out of the Institute in 1881 with silver medal of distinction; for the next two years she taught there signing and piano. Later she married Panas Myrnyi, prominent writer and master of iconic psychological novels.
Institute for Noble Girls in Poltava functioned for a hundred years, from 1818 to 1918.
In January 1918, the Institute was relocated to Vladykavkaz and transformed into secondary school for girls.
From 1918 to 1930, the main wing of the building housed in turn a land surveyors' trade school, an orphanage, a gardening school, a charitable organization "Kids' Salvation League" (headed by famous author Volodymyr Korolenko) and other numerous agencies.
Centre for education and training of civil engineers. Foundation of research facility for reinforced concrete studies by the student of prominent scholar Yevhen Paton
In 1930s, when Soviet Union became a huge building site and demand for civil engineers rapidly grew, Poltava found itself a training centre for engineers in agricultural construction.
On August 19, 1930 People's Commissariat for Agriculture in Ukrainian Soviet Republic issued a Decree 27722965 to establish Poltava Institute for Agricultural Construction and Engineering. Poltava, as traditionally agricultural region, already had the Institute of Agriculture which included faculty for agricultural construction. The decision was made by Poltava city council to relocate this faculty to the former building of Institute for Noble Girls on 24 Pershotravnevyj Ave. (main three-storey wing, two separate one-storey side wings, auxiliary facilities) and transform it into separate establishment.
This faculty for agricultural construction had five academic departments, 33 lecturers and 282 students.
Among the first lecturers we can proudly name M. S. Torianyk, alumnus of Kyiv Polytechnic Institute and student of Yevhen Paton; Y. V. Platonov, graduate of the Institute for Railway Engineers in Petrohrad and founder of research centre for foundations and substructures; T. Y. Hardasevych, former city architect and founder of school for architectural planning; O.K. Kasymenko and S. Y. Danishev, later to gain renown as prominent historians, gave lectures in humanities.
Later the institute joined O.O. Kashperov (construction materials and technologies), K.M. Kupynskyi (structural analysis and reinforced concrete structures), M. F. Stasiukov (architecture), V. P. Sukhanov (fire-resistant construction), F.M. Kheraskov and M.O. Sokolov (geodetic surveying), O.O. Korolov (descriptive geometry and engineering drawing) and many others.
In 1933-1934, the faculty for agricultural construction from the Saratov Rural Development Institute, which had about 200 students, was merged into the institute.
The extensive library was among the first cares of the Institute. In 1934 Yurii Zhylko, local poet and educator, was appointed Head Librarian.
Number of academic departments grew with years. In 1940, there were twenty departments (mathematics, physics, chemistry, design, theoretical mechanics, structural analysis, building materials, construction operations etc). The institute had over 500 students. In ten years before WWII, over 800 engineers specializing in agricultural construction graduated from the institute.
Revival after WWII: Ubi Concordia, Ibi Victoria
As WWII began, the institute was evacuated to Uralsk, western Kazakhstan. Many teachers and students were deployed to fight. Students that went to the faraway Kazakstan, continued their studies, and after lectures did their part of war effort: helped to nurse the wounded in hospitals, cleared away the snow on the streets, raised warm clothes for the needy, prepared presents for recovering soldiers and even gave amateur theatrical performances.
In 1941-1945, over 2000 civil engineers graduated from the institute; most of them were mobilized to the army. In total, 267 students, lecturers and staffers fought on the front. Among them was senior lecturer D. M. Batishchev; he personally installed the flag of victory on one of the governmental edifices in the centre of Berlin in May 1945.
After Poltava had been liberated, on October 19, 1943, students and staffers returned from evacuation. The city has been severely burned, and the main wing of the institute with campus ruined.
During the years of war atrocities, the institute suffered damages altogether to over six million roubles by contemporary estimates.
To start back teaching, Poltava city council gave the institute the dilapidated two-storey house at 8, Shevchenka str. It had 20 rooms, totaling in 513 square meters.
The ruined main wing was slowly rebuilt by the joint effort of the teaching team; it was decided to connect it with the one-storeyed side wings, add laboratories and classrooms. The building was fully restored by 1955.
Due to all the changes, in 1961 Ministry of Education of Ukraine issued Decree 12 that gave the institute the new name and status: Poltava Institute of Civil Engineering. In 1954-1971, new faculties had been opened: faculties of civil and industrial engineering, faculty of architecture, sanitary engineering, general engineering, faculties of advanced, external and part-time learning. The management of the institute worked hard to build new lab, right and left wing and campuses to accommodate all students. The student design studio, created at the institute back in 1930, has been actively involved in the expansion.
We gratefully remember the rectors that headed the institute throughout the years of its rise and evolvement: D.I. Illiashenko (1930 – 1934), T.T. Manko (1934 – 1937), L.M. Damanskyi (1938 – 1953) and I. S. Dotsenko (1953 – 1982).
New historical changes took place for the institute after Ukraine regained its independence: it went from single-industry education provider to classical European university
Since 1992, the institute is being transformed from the single-industry engineering educational establishment which had 6 learning specializations only, into the university that provides 26 specializations in all: from economic and environmental studies to electrical engineering, architecture, civil engineering and many others. Hard work and meticulously developed learning curves for every student did not go unnoticed, and we were able to achieve the highest level accreditation (IV, international grade) and on August 29, 1994 by the Decree of the Cabinet of Ministers of Ukraine the institute was renamed as Poltava Technical University.
On June 21, 1997 on the occasion of the centennial anniversary of the birth of Yurii Kondratiuk, the prominent space technology theoretician, the university has been awarded his name by the decision of Ukrainian government.
On March 27, 2002, by Order of the President the university was assigned the status of the national educational establishment. Since then, it became Yurii Kondratiuk Poltava National Technical University.
Today, it is the international powerhouse for science and innovation, an educational establishment with 8 structural divisions, 6000 students (including 500 international students), 94 educational programs, state of art approaches to learning and research.
University team consists of about ten thousand staffers; among them are 350 professors and doctors of science, 20 recipients of State Prize of Ukraine for achievements in science and winners of Young Researches Award from the President of Ukraine.
10 powerful schools of sciences operate at the university, with internationally renowned researchers standing at the helm.
The university is actively integrated into the global education, is a member of the Magna Charta Universitatum and works with a wide network of international education partners.
On August 2, 2019, by the Decree of the Minister of Education Liliia Hrynevych our university was renamed as National University «Yuri Kondratyuk Poltava Polytechnic». It is not just a name change – from the powerful establishment for technical education it has actively transformed into the quintessentially multifunctional European university. Today, our students study arts and humanities, law and finances, hi-tech and innovations; they find themselves in sport and competitions.
The university upgrades in the era of the fourth industrial revolution
2020 is the signature year for National University «Yuri Kondratyuk Poltava Polytechnic»: it is 90th anniversary of its foundation and time to reflect on the path that it had taken and the way it was able to combine traditional education trajectories and long-standing achievements with advanced technologies and innovative creative ideas.
The territory of the university is an exemplary modern campus with comfortable learning and social space.
The university has outstanding material and technical resources. In recent years, we have attracted endowments from leading international companies. Students have one-of-a-kind opportunities to engage in 3D modelling and robotics, do academic research and test their findings in the laboratories, go for internships with our partner companies, create startups and even launch their own businesses. Together with Sikorsky Challenge Innovative Holding, in 2018 we have opened the startup school, the only in Poltava region.
The majority of educational services is digitized; educational programs are constantly adapted to suit the professional competences of students intent to work with most advanced technologies.
The university is also actively engaged in community works and social projects. It has become centre for Poltava branch of the Junior Academy of Sciences of Ukraine and assisted for the National Centre of the Academy to be included under the aegis of UNESCO. Also, the university is a place for sports competitions of students on a country level and promotes healthy way of living.