The results of the annual academic rating for the leading Ukrainian higher education institutions have been published on the website of the Center for International Projects "Euroeducation". According to the results of the sixteenth independent annual academic rating of Ukrainian higher education institutions "TOP-200 Ukraine 2022", National University "Yuri Kondratyuk Poltava Polytechnic" took first place and retains a leading position among universities in Poltava region: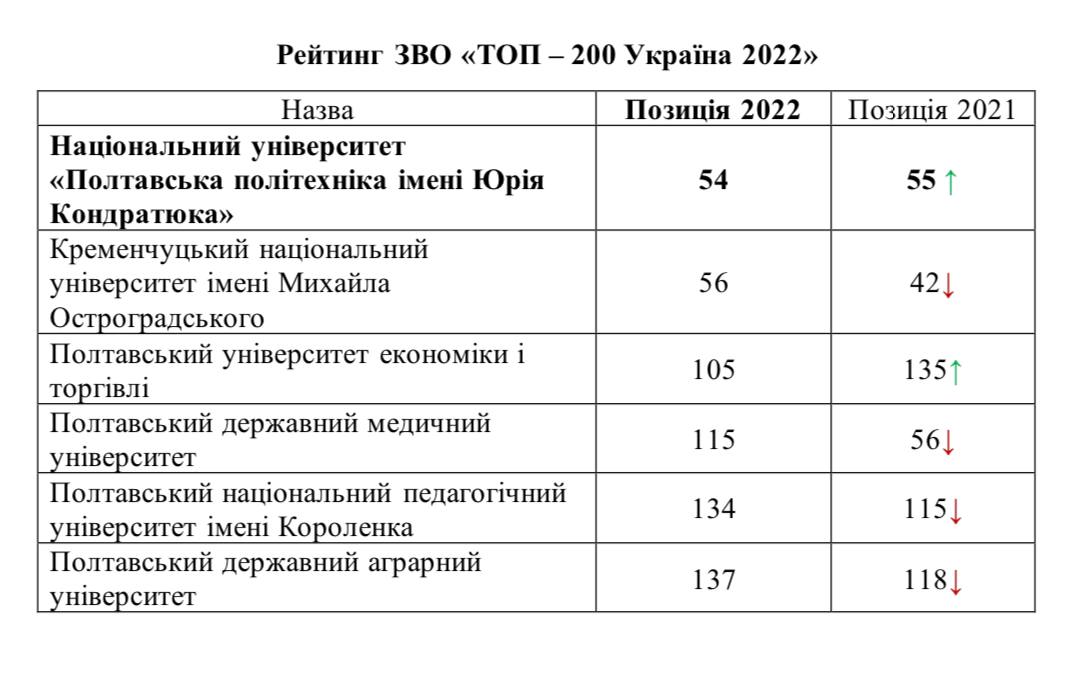 Compared to last year, Poltava Polytechnic has risen one place in the ranking positions and entered the TOP-55 leading universities of Ukraine.
According to the rector of the National University "Yuri Kondratyuk Poltava Polytechnic", Professor Volodymyr Onyshchenko, high rankings, excellent results of innovative, scientific, educational and international activities of the university as a powerful educational institution, leader of higher education in Poltava region are a great example of hard work, coherence of academic staff and student team.
"We are proud to glorify the Poltava region with scientific and educational achievements! In difficult conditions of full-scale war on the territory of Ukraine Poltava Polytechnic continues to faithfully fulfill its honorable mission – to provide quality education at the European level as well as ensure favorable conditions for the harmonious development of the personality of the scientist, teacher, student. The united team is working for Victory on the educational front! Thank you dear scientific and pedagogical staff for your daily work and joint success! I invite pupils to study at the modern classical university of Poltava region – an innovative leader in higher education!" – commented the rector of the National University "Yuri Kondratyuk Poltava Polytechnic", Professor Volodymyr Onyshchenko.
In compiling this year's sixteenth academic ranking, experts took into account the work of the IREG 2020 International Conference (October 20-21, 2020), IREG 2021 (November 15-16, 2021) and the Berlin Principles, approved by the second IREG meeting (May 18-20, 2006).
The basic principles of determining the rankings of Ukrainian universities include:
ensuring openness, transparency, objectivity and independence of university rankings;
taking into account the comprehensiveness and diversity of university activities;
priority of European integration processes.
This year's ranking of universities "TOP-200 Ukraine 2022" was headed by Taras Shevchenko National University of Kyiv, the top three also included the National Technical University of Ukraine "Kyiv Polytechnic Institute named after Igor Sikorsky" and V. N. Karazin Kharkiv National University.
Earlier, Poltava Polytechnic entered the top 10 Ukrainian universities in the world ranking of Times Higher Education for the second time.
Media Center of
National University "Yuri Kondratyuk Poltava Polytechnic"